– Say All Hands Must Be On Deck To Move Nigeria, Lagos Forward
Some chieftains of the All Progressives Congress, APC, who decamped along with their supporters to the Labour Party, LP, ahead of the 2023 Presidential election, have publicly apologized to the President-elect, Asiwaju Bola Ahmed Tinubu, over their political sojourn in the LP.
The former LP chieftains, who claimed they have returned to the APC, tendered the unreserved apology at a press conference organised by the Progressives Action Forum of Lagos, PAF, at the Onikan Youth Centre, on Thursday, in Lagos.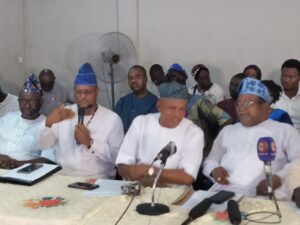 The party chieftains had earlier been suspended by the leadership of the LP after they decided to shun the LP governorship candidate, Gbadebo Rhodes-Vivour and mobilized their supporters to vote for Governor Babajide SanwoOlu and his Deputy Obafemi Hamzat, during the state governorship poll.
According to the former State Coordinator, Contact & Grassroots Mobilization Team for Peter Obi/ Labour Party Presidential Campaign Council, Hon. Shola Opeyemi Taiwo, "like the prodigal son, we have returned to the APC, which is our root and we are happy to be back home.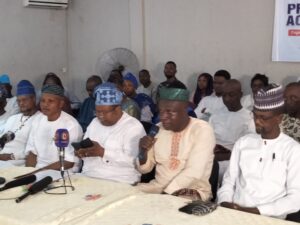 "In the governorship election, we chose experience over inexperience, because we believe SanwoOlu is more experienced than Gbadebo Rhodes-Vivour, who is a rookie."
Earlier, leader of the Progressives Action Forum of Lagos, Chief Adesunbo Onitiri, while appealing to Nigerians, especially residents in Lagos to support the new administrations of Governor Babajide SanwoOlu and the President-elect, Asiwaju Bola Tinubu, said the time for politicking is over and it's time for good governance.
Chief Onitiri, who noted that the supporters of each of former LP chieftains, run into over 5,000, said they all came out of the LP and the Congress of Political Parties, CPP, as well as representatives of prominent indigenes of Lagos State.
While welcoming the former LP chieftains and supporters to the APC, he stated that this is the time for everyone to come together and strategize on how to move Lagos State forward.
"My political associates are now fully back in APC having contributed to the resounding victory of our Governor Babajide SanwoOlu at the poll
"We are happy to welcome you all to our great part, APC. At the appropriate time, we shall integrate you all into the main stream of APC where you will play your roles in the party. APC is large enough to accommodate everyone. We are all team players. Oju orun to eiye for lai fi ara kan ra.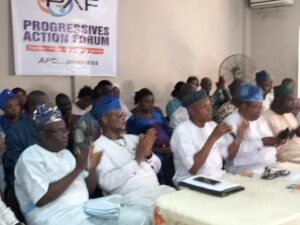 "Over 20 million Lagosians love you dearly our indefatigable Governor SanwoOlu and your deputy Dr Hamzat. We look forward to your making our dear State a more secured and prosperous one. Also, we look forward to your providing improve infrastructure like roads, electricity, potable water, houses for the less privilege with mortgages facilities and above all enabling environment where businesses will thrive"
Chief Onitiri however lamented that there's an urgent need to protect and preserve the interests of the indigenous Lagosians, noting that they are fast becoming an endangered species in their own state of origin.
His words: "We need to adopt the Dubai indigene model, as a case study. Their reversionary interest in their land holding should be restored."
He also noted that as patriots let everyone embrace peace to move the nation forward.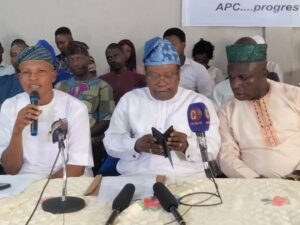 He said, "We cannot set our country on fire like Sudan. We have no other country we can call our own. Let's all explore all peaceful means to resolve our differences. Let's all emulate the good example of our former President Goodluck Jonathan, who conceded victory to Gen. Muhammadu Buhari before the conclusion of the polls and said his victory does not worth the blood of any Nigerian."
Other ex-LP chieftains at the press conference include; Alhaji Akinwande Saheed, former Deputy Director General for Contact & Grassroots Mobilization Team for Peter Obi / Labour Party Presidential Campaign Council; Alhaji Keshinro Olabode, a leader from Amuwo-Odofin; Oladele Idowu, Congress of Political Parties; Ogbeni Adeniji Taofeek, Amuwo-Odofin LGA Apex Leader of LP; Shokunle Oladimeji, aka OwoWest, former LGA Chairman Amuwo-Odofin; Ademola Adekunle from Ajeromi Ifelodun; and Alhaji Isa Danjuma, Apex leader of LP in Ikorodu, amongst others.