As part of efforts to drastically curb Sexual and Gender-based Violence, SGBV, and ease financial plights of Women in Lagos State, the Ministry of Women Affairs and Poverty Alleviation, WAPA, is collaborating with Women's Rights and Health Project, WRAHP, a non-governmental organisation, which focuses on Justice and Psychosocial support services for female survivors of SGBV.
Speaking during an advocacy visit by WRAHP's Director and delegates of Civil Society Organisations, the Permanent Secretary for WAPA, Mrs. Oluyemi Kalesanwo reiterated WAPA's mandate to protect women against SGBV and empower them towards financial independence, hence, the need for collaborative efforts to achieve these goals.
"Governor Babajide SanwoOlu, whose progressive first term in office was anchored on the T.H.E.M.E.S agenda, has introduced the T.H.E.M.E.S Plus which includes an intensified focus in the next four years on Social Inclusion, Gender Equality and Youths", she said.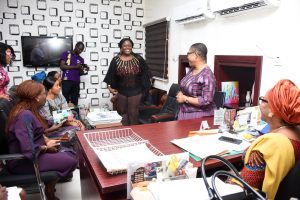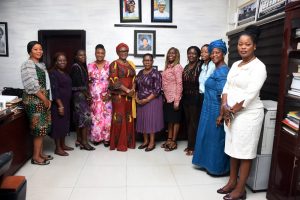 She urged Women-focussed Civil Society Organisations across the State, to register with WAPA for a seamless onboarding process in the State's Social register which is domiciled with the Lagos State Operations Coordinating Unit, LASOCU, Register.
Kalesanwo said, "Women of all categories, including those living with disabilities should take advantage of the numerous programmes being taught in the 19 Skills Acquisition Centres across the State to ensure that no woman, regardless of disability, health or social status is left behind in the state government's poverty reduction effort that will equip vulnerable women in the State with vocations to make them economically independent".
Executive Director of WRAHP, Mrs. Bose Ironsi stated that the planned collaboration with WAPA was part of the group's sensitisation campaign aimed at combating SGBV in Communities and providing a healthy and safe environment for women.
Ironsi applauded the Lagos State Government for its exemplary strides in the empowerment of women and youths across the State.
"On behalf of WRAHP, we are grateful for how responsive WAPA is, to creating a safe space for women and empowering them towards becoming financial contributors who can easily provide for themselves".
The Director of Domestic Violence Department, WAPA, Mrs. Oluwatoyin Olorunfemi, informed the group of the Ministry's Domestic Violence Department's current activities, which oversees issues on all forms of Violence against women.
"We encourage people to speak up and speak out against all forms of violence, as such, we have dedicated Phone lines where you can report cases of violence, you can also visit the physical office at WAPA or call the toll-free number #767," Olorunfemi said.