Tracc Systems, a leader in logistics and supply chain management solutions, announces a strategic partnership with Eonsfleet, a pioneering fleet management technology provider, aimed at revolutionizing the transportation and supply chain landscape in Africa.
This collaboration brings together two industry-leading companies to transform the way businesses manage their fleets, optimize their supply chain operations, and maximize profitability.
Tracc Systems' innovative logistics and supply chain management solution is focused on enabling businesses to save up to 50% in costs and time. With a commitment to empowering companies to streamline their operations and minimize disruptions, Tracc Systems has built a reputation for delivering technology that drives operational efficiency and sustainability.
Eonsfleet has been at the forefront of fleet management technology solutions, empowering businesses with real-time tracking, predictive maintenance, driver behavior monitoring, and intelligent routing capabilities. Their comprehensive suite of features has helped businesses across Africa increase efficiency, improve safety, and enhance profitability.
Eonsfleet offers a range of features in their fleet management and technology solutions. These include real-time tracking, driver behavior monitoring, predictive maintenance, geofencing, performance analytics, driver communication, intelligent routing, integration and compatibility, and data security.
By combining Tracc Systems' supply chain optimization expertise with Eonsfleet's state-of-the-art fleet management technology, this partnership will provide businesses in Africa with an unmatched solution to optimize their supply chain and transportation operations. The integration of Tracc Systems' supply chain management software with Eonsfleet's advanced fleet management software will enable businesses to streamline their processes, improve delivery accuracy, reduce costs, and enhance customer satisfaction.
"Partnering with Eonsfleet is a strategic move for us as we continue our mission to automate supply chain and logistics operations in Africa" says Olamide Adebiyi, CEO and Co-founder of Tracc Systems. "By combining our expertise in supply chain visibility with Eonsfleet's cutting-edge fleet management solutions, we are unlocking new possibilities for businesses across the continent. Together, we will empower organizations to achieve end-to-end visibility, optimize operations, and drive growth. This partnership marks an exciting chapter in our journey to transform the African supply chain landscape, providing businesses with the tools they need to thrive in a rapidly evolving market."
The partnership between Tracc Systems and Eonsfleet signifies a mutual commitment to driving innovation and transforming the African tech landscape. With a shared vision of empowering businesses and reshaping the future of fleet management, this collaboration is set to create immense value for organizations across various industries, from e-commerce and retail to manufacturing and distribution.
"We are thrilled to embark on this partnership with Tracc Systems," stated Tokunbo Arannilewa, Cofounder and CEO of Eonsfleet. "By combining our industry-leading fleet management technology with Tracc Systems' end to end supply chain visibility capabilities, we will enable businesses in Africa to excel in an increasingly competitive marketplace. Our cutting-edge features, including real-time fleet tracking, predictive maintenance, driver management and intelligent routing, will empower companies to streamline operations, reduce costs, and enhance overall supply chain efficiency."
Together, Tracc Systems and Eonsfleet will redefine how businesses in Africa approach fleet management, logistics operations, and supply chain visibility.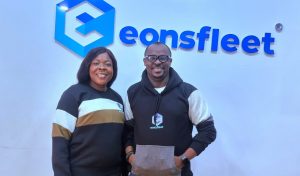 This partnership marks a significant step towards a more efficient, sustainable, and profitable transportation and supply chain industry in Nigeria and across the continent.