Surulere is one of the 20 local government areas of Lagos State. It is a City that boast of over 6million populations. Surulere prides as the center of Lagos State, which means that from Surulere you can easily make your way to any part of Lagos.
Security in Surulere is water tight. Surulere shares border with University of Lagos, Lagos University Teaching Hospital, National Theatre, Randle General Hospital, Eko Hospital and many banks, eateries, hangouts, clubs and hotels.
Another beautiful thing about Surulere is its dry land topography with best and smoothest road networks in Lagos and a City for the middle class citizens.
Surulere gives huge return on investment in terms of properties. Reason being that it is a City of high demand for properties. A visit to Surulere will convince any potential investor. Every type of property will fly in Surulere be it flats, hostels, hotels, office, institution, mall etc.
This is the reason investors needs to take the advantage of Signature Apartments Surulere offer. Don't miss this chance, invest in Surulere today.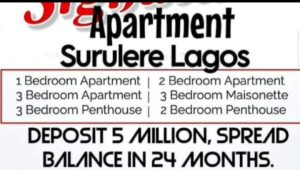 Apartment Types:
1 Bedroom Apartment #29Million
2 Bedroom Apartment #39.5Million Naira
3 Bedroom Apartment #44.5 Million
3 Bedroom Maisonette#49.5million
3 Bedroom Penthouse #55Million
2 Bedroom Penthouse#45Million
#Certificate of #Occupancy
📍Surulere Lagos, Behind National Stadium, Surulere, Lagos
Amenities:
– 24/7 Light
– Elevator
– Gate environment.
– Smart Street Light
– Parking Area
– Smart Technology
– Serene Neighborhood
– Good Road Network
– Portable Water System
Deposit 5 million, spread balance in 24 months.
Call/WhatsApp
08027180072
Don't miss out on the opportunity to win a piece of property in a prime location.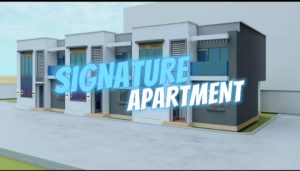 #thesignature #thesignatureapartmentsurulere #apartment #penthouse #maisonette #crownluxurypropeties #crown #surulere #realestate #lagos #lagosrealtor