The 2023 BRICS summit marked a significant moment in international diplomacy and cooperation. Bringing together five major nations – Brazil, Russia, India, China, and South Africa, BRICS – this summit underscored the importance of these nations coming together. However, beyond the political and economic implications, it also shed light on the unity of Africa and the compelling need for Africans to unite for the betterment of their lives.
Amongst about 1500 global business leaders, who received invitations to attend the BRICS Business Summit held in Sandton City Africa's richest square mile in South Africa's Economic Capital Johannesburg, Ms Moleboheng Matli made the list.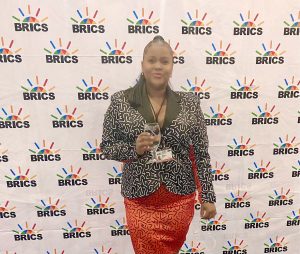 The Matli Holdings Group Executive Chairperson says on the sidelines of BRICS, it was fascinating how the business community at large agreed that the potential Africa holds is pertinent to transitioning a BRICS economy to dominate global growth..
The BRICS nations are characterized by their significant global influence, both economically and politically. This summit reaffirmed their commitment to fostering cooperation in various domains, including trade, finance, and technology. By working together, these nations aim to address common global challenges and promote economic growth within their borders.
Ms Matli being an African Economic Strategist and Media Practitioner with over 22 African Countries tapped into, she shared her her overview analysis of BRICS as follows:
1. Economic Cooperation: The economic significance of BRICS cannot be overstated. These five nations collectively represent a substantial portion of the world's population and GDP. Their collaboration fosters economic growth, promotes innovation, and opens up new avenues for trade and investment. In an interconnected world, the unity of BRICS nations bolsters global economic stability.
2. Political Influence: BRICS countries hold considerable political sway on the global stage. Their collective voice carries weight in international forums, allowing them to address pressing global issues, such as climate change and security concerns, with a unified approach.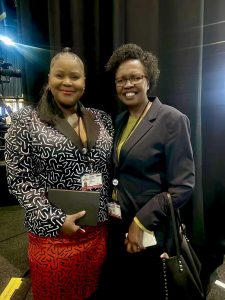 3. Technological Advancements: In an era defined by technological innovation, BRICS nations recognize the importance of collaborating in research and development. This summit provides a platform for them to share knowledge and expertise, fostering advancements that can benefit not only their citizens but the entire world.
Unity of Africa: A Necessity
Africa, often referred to as the "cradle of humanity," is a continent of immense potential and diversity. However, despite its rich resources and cultural heritage, it faces numerous challenges, including political instability, poverty, and underdevelopment. BRICS nations understand the importance of African unity in addressing these challenges.
1. Economic Potential: Africa is endowed with vast reserves of natural minerals and resources. The continent's potential for economic growth is enormous, making it an attractive destination for investment. However, to fully unlock this potential, African nations must work together to create a conducive business environment.
2. Food Security: Africa's climate and fertile lands have the capacity to support not only its population but also contribute to global food security. Cooperation among African nations can facilitate the development of sustainable agricultural practices and ensure food security for the continent and beyond.
3. Tourism: Africa boasts some of the world's most breathtaking landscapes and wildlife. The tourism industry has the potential to generate significant revenue for African nations. However, it requires collective efforts to promote these destinations and ensure their preservation for future generations while exploring the full value chain of Toursim.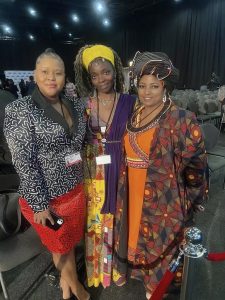 Matli's interactions with business leaders keen on investing in Africa revealed a common sentiment; optimism. These leaders recognize Africa's untapped potential and view it as a beacon of economic stability. They are drawn to the continent's abundant natural resources, favorable climate for food production, and its breathtaking tourism landscapes.
1. Natural Resources: Africa's vast reserves of minerals and resources, including gold, diamonds, and oil, are a magnet for investors. Business leaders see the opportunity to not only profit from these resources but also contribute to sustainable development in the region.
2. Food Security: With a growing global population, ensuring food security is paramount. Africa's agricultural potential is immense, and business leaders are eager to invest in modernizing agriculture to meet both local and international demand.
3. Tourism: Africa's rich cultural heritage and natural beauty make it a prime destination for tourism. Business leaders understand that responsible tourism can bring economic prosperity to local communities while preserving the environment.
In conclusion Moleboheng Matli says the The BRICS Summit of 2023 serves as a reminder of the importance of unity among nations and regions. It highlights the significance of BRICS nations coming together to address global challenges and foster economic growth. Simultaneously, it underscores the imperative for African nations to unite and harness their vast potential for the betterment of their citizens.
Africa is poised for remarkable growth and development. By capitalizing on its natural resources, ensuring food security, and promoting responsible tourism, Africa can emerge as a key player in the global economy, offering stability and prosperity not only to its people but to the world at large., says Matli smiling with hope in her voice.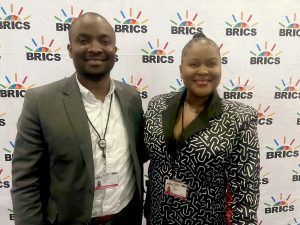 The BRICS summit serves as a catalyst for these aspirations, emphasizing the interconnectedness of nations in an ever-evolving world.
The BRICS SUMMIT hosted amongst others, Gauteng's Chief Executive, Hon Premier Panyaza Lesufi; Nkosi Zwelivelile Mandela, Chief of Mvezo and grandson to SA's global icon, late Tata Nelson Mandela; Legal Advisor to Former President Thabo Mbeki, Advocate Mojanku Gumbi, who was recently appointed as UN Special Advisor on Racism in the workplace; Minister for Small Business Development, Stella Ndabeni Abrahams with great contributions made on the sidelines of BRICS.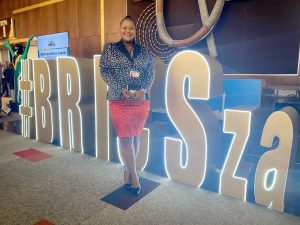 I am grateful for the opportunity to attend BRICS 2023 and look forward to the actualising of some of the resolutions in the nearest future.