A non-governmental organization, Know Your Rights for Justice, has petitioned the Chairman and Chief Executive Officer of the National Drug Law Enforcement Agency, NDLEA, Brig. Gen. Mohammed Buba Marwa, over the alleged killing of one, Charles Oyinbra Anderson, by NDLEA operatives.
The rights group, in a letter dated March 17, 2023, and signed by its Chairman and Lead Activist, Comrade Olusegun Adeeko and its General Secretary, Comrade Clement Cosmos, condemned what it described as extra-judicial killing of late Charles Oyinbra Anderson, proxy arrest and illegal detention of his wife, Mrs. Joy Anderson, since March 7, 2023 at the NDLEA's command, in Gbagada, Lagos, without any incriminating exhibit found in her possession.
The letter also alleged that the act was committed by NDLEA's team leader, popularly known as Officer Kunle, after late Charles Oyinbra Anderson failed to meet up with his alleged usual financial settlement of the operatives for trading in illicit drugs.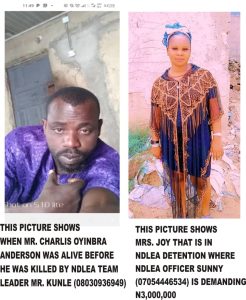 NigeriaCheck Newspaper learnt that the late Charles Oyinbra Anderson was allegedly an illicit drug dealer, before he was gruesomely murdered on March 7 by some operatives of the NDLEA.
"Everything started on March 7, 2023 at about 11:30pm," Papa Eyi Anderson, the 79-year-old father of late Charles, who claimed to witness the murder of his son, said.
"On that faithful day, my son and his wife were outside enjoying fresh air, when they suddenly saw about 8 to 9 men moving towards their apartment; some were putting on masks, while others were smoking India Hemp."
Papa Anderson continued; "few minutes later I heard some noise from my son's apartment and saw him running towards his bathroom as he was being shot at, before he fell into the river. They later arrested my son's wife, Mrs. Joy Anderson and his junior brother, Mr. Dallas Anderson and took them to their office.
"I later called the Director of Operation and General Investigation to conduct an investigation into the killing of my son, Charles Oyinbra Anderson, and asked for the unconditional release of my daughter-in-law."
Also, sharing his experience on that faithful night, Mr. Dallas Anderson, the junior brother to late Charles, who was also arrested by the NDLEA agents, and later released, asserted that on that faithful day of March 7, 2023, he heard some noise coming from his late brother's apartment, and heard his late brother shouting "I have been settling you people through Mr. Chidi"
He said Mr. Chidi is someone he knows very well, because he always come to collect money from his brother, late Charles, insisting he had overwhelming evidence to proof that Mr. Chidi is an informant to the NDLEA's agents.
Mr. Dallas further noted that when he heard the gun shot, he rushed out and saw that the NDLEA men had already arrested his brother's wife.
He added that while the woman was crying and begging the officials, they were busy putting pressure on her to show them where the drugs were.
"Immediately they sighted me, they pounced on me and dragged me back into my room, where they ransacked and found nothing incriminating. I and my brother's wife were later taken to where they packed their vehicles at Raji Rasaki Estate, Amuwo-Odofin Area of Lagos State.
"Since there was no incriminating exhibit found on me, I was released and their team leader, Officer Kunle gave me his phone number: 08030936949," Dallas said.
Dallas, however, explained that a day before his brother was killed, Mr. Chidi had called to inform him that the NDLEA officials were likely to come for him, because he had not been meeting his obligation of settling the operatives.
On his part, Mr. Lewis Anderson, also a junior brother to late Charles, said when he was informed about his brother's alleged gruesome murder on March 8, 2023, he immediately reported the incident to the Divisional Police Officer in-charge of Festac Divisional Police Headquarters.
He noted that the D.P.O instantly asked one Inspector Shola Owoeye to carryout an investigation into the matter, and Inspector Owoeye later discovered the shell of the bullets used by NDLEA officials at the spot where late Charles was killed.
"The police authority later made arrangements for my brother's corpse to be deposited at Yaba Mortuary for a postmortem."
Meanwhile, Mr. Captain Bakewel, the father of Mrs. Joy Aderson, who visited the NDLEA's office at Gbagada detention centre, said he met Officer Kunle through the phone number he gave to Mr. Dallas.
He alleged that Officer Kunle admitted he was the one, who shot at late Charles, after he attempted to jump into the river.
He said Officer Kunle also noted that as an Ijaw man, late Charles would have swimed to the other side of the river and that, "I should provide him for prosecution.
"But I told him that Charles is late. He didn't believe me, so he asked me to send his picture or video of his dead body to him on whatsapp, which I later did."
However, Mr. Bakewel expressed shock that despite the death of his-son-law, the NDLEA officials were still asking for N3,000,000.00 (Three Million Naira) for his daughter's bail. He added that the discussion about her daughter's bail was had with one, Officer Sunny.
He stressed that he was even more disturbed when the NDLEA officials advised him to allow his daughter to continue the illicit drug business of her late husband, as long as she is ready to continue to settle them.
In the petition sent to NigeriaCheck Newspaper, Know Your Rights for Justice's Chairman and Lead Activist, Comrade Olusegun Adeeko, said it's disheartening and indeed painful that despite the image saving measure being embarked upon by the NDLEA's Chairman and Chief Executive Officer, Brig Gen. Mohammed Buba Marwa, his officers are still neck deep in crimes and extra judicial killing.
He noted that the killing of Mr. Charles Oyinbra Anderson, contravenes Section 33 of Federal Republic of Nigeria Constitution, which says "Every person has a right to life and no one shall be deprive intentionally of his life, save in execution of the sentence of a Court in respect of a criminal offence of which he has been found guilty in Nigeria".
Mr. Adeeko also expressed surprised that NDLEA officials were aiding and abetting drug dealers for their own financial gains, thereby violating the laws that establish the Agency.
He, however, urged Brig. Gen. Mohammed Buba Marwa, to as matter of urgency, carryout an in depth investigation on the alleged killing, proxy arrest, illegal detention, aiding and abetting by NDLEA officials to bring the culprits to justice.
He equally called for the immediate release of Mrs. Joy Aderson.
Reacting to the alleged killing through a WhatsApp message sent to NigeriaCheck Newspaper, NDLEA's Director, Media and Advocacy, Femi Babafemi, said the allegation was already being investigated by the Agency.
His message reads; "from available information, the suspect, who lived by the riverside had been arrested a number of times for drug dealing and when operatives got to his house the last time, he dived inside the river to escape arrest and drowned.
"Though his wife, who was also into the same business was arrested with drug exhibits like methamphetamine and cannabis, she has since last Wednesday been released on administrative bail, after the issue of her husband's death was brought to the attention of the state command."