The first batch of Nigerian evacuees from war-torn Sudan arrived the Nnamdi Azikiwe International Airport, Abuja, in the early hours of Wednesday.
The evacuees were said to be the first batch of stranded Nigerians, who arrived the Argeen border last week Wednesday for airlifting from Aswan Egypt.
The Air Peace plane arrived at 11:35pm with 278 passengers, while the NAF C130 arrived at 11:55pm with 98 passengers on Wednesday night.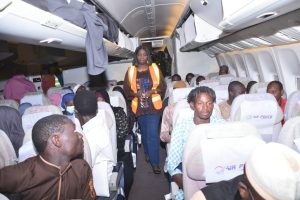 Chairman of Nigerians in Diaspora Commission, Abike Dabiri-Erewa, who received the evacuees on behalf of the Federal Government, assured Nigerians that those yet to arrive would be airlifted speedily.
Mrs Dabiri-Erewa said, "Everyone is excited to receive them. We hope that those over there will come back speedily. We are expecting that with the arrangements made by NEMA, there are going to be more planes because Egypt makes it difficult.
"For stranded Nigerians at Port Sudan, they are trying to get tickets because it is even more difficult to get flights to Port Sudan. But they have an airline. They are processing it, and once they get tickets, they will come back home. If other airlines get the landed permits, they will quickly go and airlift stranded Nigerians. We are glad that no one lost his or her life. Priority was given to women and children."